Meet: Andrew Jobe
Posted by Lewis Sopp on 20/06/17 12:28
At durhamlane one of our greatest asset is our workforce. A combination of experienced professionals and recent graduates make up a determined, hardworking and rather unique team.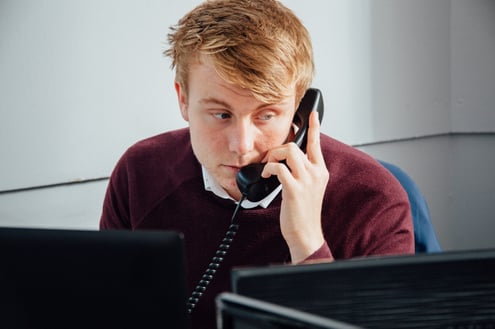 We appreciate that our sales performance services are only as good as our people and their ability, thoughtfulness and creativity; that's why we employ, nurture and develop passionate, loyal and committed professionals who will develop in line with the growth of the business. One of our talented team members has shown tremendous progress; beginning as a fresh Newcastle University graduate within our Outsourced Sales & Business Development division, he has now moved into a team leader role within that department.
Here, we discuss with Andrew his journey with durhamlane so far and his ambitions for the future.
Not many students think of sales as a career, how did you get started within this field?
I applied for several graduate schemes in a variety of sectors after I left university and set myself a target of securing one of those by December. durhamlane responded very quickly to my application, and so I received a call from them whilst on holiday asking me to come in for an interview for their Sales Graduate Programme.
My biggest reservation at this stage was that I'd be working in a call centre type environment, which didn't appeal to me at all. However, through my own research and detailed discussion during my interview, I soon gathered that there was a lot more to the role than simply making calls and my initial scepticism was outweighed by eagerness to get started. We certainly do not have a call centre atmosphere here at durhamlane!
What was your favourite part of working as a Sales Executive at durhamlane?
I have always been rather competitive, whether that be through education or playing football with friends. The light-hearted environment at durhamlane allows sales targets to become a friendly competition between colleagues and I use that as a motivation to deliver great results for clients every day.
Of course, when I first joined durhamlane I did seek help and advice from other members of the team. Most notably within my first week, I recall feeling anxious that results weren't being generated as quickly as I had anticipated. Certain colleagues recognised the pressure I was putting myself under and kept the atmosphere positive; something I now try and replicate if a new team member is getting off to a slow start.
I am intrigued at how durhamlane's Management team identify strengths of every staff member and invest in people's development, whenever possible. As I began to feel more confident within my role, I was eager to relieve some of the pressure from my supervisor at the time. I did this by taking on further responsibilities. My aspiration to become a team leader began from there and fortunately I moved into that role less than 2 years after my graduation.
What is the biggest challenge you've faced whilst working at durhamlane?
Previously I've found it difficult to report to clients when KPI's had not been fully reached, often for reasons beyond my control. But instead of getting frustrated by slow weeks, I learnt quickly to maintain high levels of positivity, which in turn drive better results. As Richard Lane, co-founder of durhamlane, says in Mantra #6: "24 hours to celebrate or wallow in misery". This is a life lesson, you must keep going when things are not going particularly great and Sales is a good learning field.
What are your aspirations for the coming years?
That's quite a hard question to answer. Only one year ago I wouldn't have thought durhamlane have opened a second office and grown like they have done. So, it's not the best answer but ultimately, I'm not sure!
However, moving into the leadership team has already given me the opportunity to become further aware of the company's plans for the coming years and the different avenues which are being explored, the potential of working internationally for example.
That is the beauty of durhamlane I guess, we could steadily grow or we could absolutely explode and grow incredibly. I know which one I am excited by most…
If you're interested in our Sales Graduate Programme or would like to speak with Andrew and understand how durhamlane can help your business, please get in touch:
T: 0191 481 3800
E: andrew.jobe@durhamlane.com