durhamlane builds and extends its client base to post record year
Posted by Janine Rupf on Mar 30, 2017 11:29:10 AM
Newcastle-based durhamlane is set for further growth and job creation after enjoying its most successful year in business yet.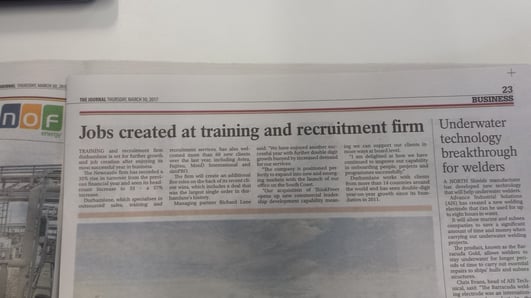 Published in The Journal, March 30th
The sales performance firm has recorded a 35% rise in turnover from the previous financial year and seen its employee count increase to 33 – a 57% increase.
durhamlane, which specialises in outsourced sales, training and recruitment services, has also welcomed more than 60 new clients over the last year, including Aviva, Fujitsu, MooD International and simPRO. Their proven 'Selling at a Higher Level' methodology has been implemented across many new clients, including those with an international presence.
The firm has accelerated its hiring plans and will create an additional five roles on the back of its recent client wins, which includes a deal that was the largest single order in durhamlane's history.
Richard Lane, Managing Partner at durhamlane, said: "We have enjoyed another successful year with further double digit growth buoyed by increased demand for our services. The company is positioned perfectly to expand into new and emerging markets with the launch of our office on the South Coast, which greatly improves our connectivity to the surrounding areas, particularly London. Our acquisition of ThinkFreer opens up new Commercial Leadership development capability meaning we can support our clients in more ways at Board Level. I am delighted at how we have continued to improve our capability in onboarding people, projects and programmes successfully."
The company has also secured new partnerships with Connect Yorkshire, as its official training partner, and techUK.
Lee Durham, Managing Partner, added: "We are looking to build-on this positivity and carry on the trend of delivering year-on-year growth with job creation and further contract wins. We are exploring new international opportunities and a range of exciting partnerships. With all of this activity we are right on track to achieve our mission for 2020. We are a people business and pride ourselves on employing bright, young and ambitious talent." (Check out our vacancies!)