3 CV tips to land that sales job
Posted by Michael Knowles on 05/05/15 17:10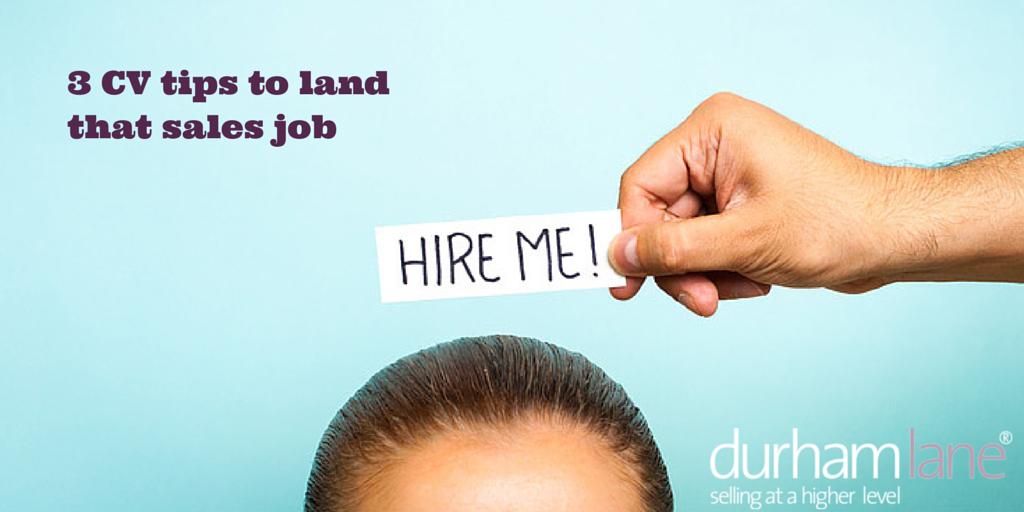 When we are looking for the best sales talent around, there are CV's which shout 'YES' right away, and there are those which say 'NO'. What is a shame is there are 100's of exceptionally talented sales people who could be perfect for a role, but unfortunately won't make it to interview stage, because their CV isn't communicating the much needed information to the recruiter or sales recruitment team.
With this in mind and with the help of our Sales Recruitment Manager Paul Hardcastle, we've decided to put together some simple guidelines to help improve the CV's of both experienced sales professionals and aspiring graduates. We have put our advice in a question and answer format to really get you thinking like an experienced sales recruitment professional; this approach will help you stand out from the crowd, and will help you get that interview.
1. Is my CV tailored to the role?
If you haven't taken the time to tailor your CV specifically to the job for which you are applying, then why would a recruiter take the time to see you? Read through the job spec and amend your CV accordingly. This is a common problem sales recruitment specialists encounter every day, with CV's often stating things such as "I've always been interested in working in the Chemical industry", when the job is actually for a Sales Executive in the Automotive industry. Straight away this kind of oversight on your CV tells the recruiter you have been applying for other jobs, and that there is no real interest and ambition to work within the automotive sector.
The other element of smart editing and tailoring is to look at the key skills required for the role, and then highlight any cross over skills you may have acquired from previous roles, or from similar projects you may have worked on. This helps the recruiter identify quickly and easily how well suited you are for the role.
2. Should I be honest on my CV?
The Simple answer …Yes! Honest, clear, and concise CV's are a really appreciated and respected by recruiters. CV's written by people who are clearly padding out a lack of the required skills or experience are seen 100's of times a day. Honest CV's focused on your genuine goals, skills and experience tell the recruiter you are; honest, self-aware, and have nothing to hide except for your determination to get the job. So be clear, be yourself, and be proud of your talents, this will in many cases put you above your competition.
3. Should I share my previous sales achievements on my CV?
Sharing a proven track record of sales success on your CV is a great way to stand out, and puts real weight behind your CV application. Evidencing and highlighting that you've previously worked to stretching sales targets will really help you to stand out to a sales recruiter. This is even more imperative if the role for which you are applying comes with its own challenging KPI's and targets. So be sure to highlight in your work experience section any similarities or crossover of KPI's and targets you've had in previous roles. To add real punch to your application, don't be afraid of putting the figures in there too, this helps bring your experiences and attachments to life for the recruiter.
To find out more about our current sales roles or our Sales Graduate programme, please visit our website www.durhamlane.co.uk or call 0191 481 3800 and ask to speak to one of our recruitment team. You can also follow us on twitter @durhamlanerec