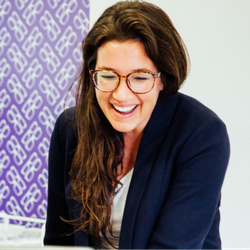 Top Inside Sales challenges
Posted by Janine Rupf on 11/04/17 12:02
What is preventing commercial teams from performing at their maximum efficiency?
The American Association of Inside Sales Professionals (AA-ISP) and InsideSales.com have surveyed more than 300 sales leaders and sales reps to find out what is hindering them from achieving high performance.
The results show a very clear picture; Sales leaders are struggling to provide effective training and development for their teams, to improve lead generation and to find and recruit the right people.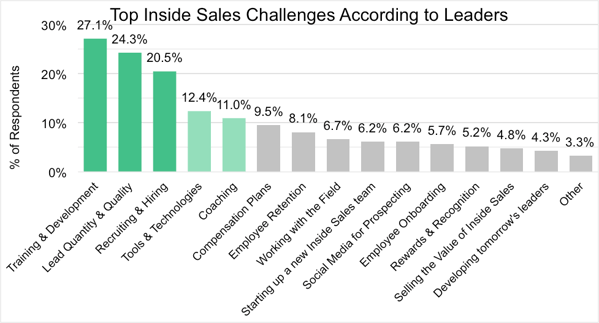 The fact that the top 3 challenges have stayed the same over the last few years of this study indicates that companies haven't found an effective solution to overcome these hurdles.
It's because of these unsolved challenges that Richard and Lee first came up with their unique combination of sales performance solutions that help ambitious companies who are striving for fast growth.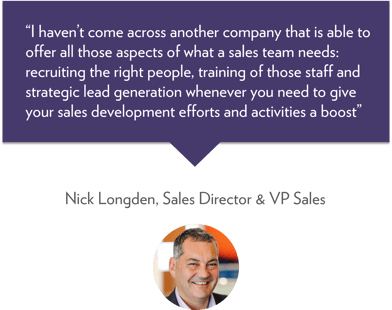 Tips to pick the right partner
We know from our own experience that a vast majority of companies depend on internal resources for training, lead generation and recruitment. They are typically reluctant to consider external support. From the survey above, however, we can conclude that in many cases time or specific expertise just doesn't allow the initiation and implementation of successful change programmes.
Partnering with a trustworthy specialist can be the right decision to boost performance and productivity. Not only is it proven to be cost-effective, but it leaves time to focus on the most important parts of your business.
Finding the right partner is not easy, so we thought we'd share a few tips that will hopefully help you:
Business Fit. Business Value. Long-term Relationships. A good service provider is going to invest in long-term relationships. They make time to get to know you and your business and they want to ensure that both parties benefit from the partnership.
Professional, Humble, Courteous… Experienced service providers have proven processes, tools and methods in place. They have tested different approaches and are confident enough to tell you what does and what does not work. Ask them how they will work with you.
…Pro-active, Hungry, Ambitious. Make sure your partner does challenge you with new ideas. Good is not good enough for them, because their ultimate goal is to take you to the next level. Your success is their success.
Ask for references. The best reference are happy clients. Look out for testimonials and case studies.
The durhamlane Difference
Our intention is to become a long-term and strategically important partner to our clients. This is why we invest time and effort to create the best-fit solution for every business. Find out what we can do to help you: 0191 481 3800